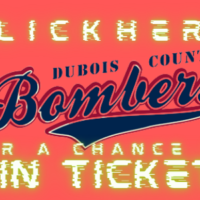 Win 4 tickets to an upcoming Dubois County Bombers game! Register here:
If selected, you will be mailed a voucher for your tickets to be  picked up at League Stadium's will call window.
(Must be 18 to enter.  No purchase necessary to enter and one winner per household every 30 days.)
Note: Dubois County is on EASTERN Time. Our opponents are on Central Time. Times listed  are Eastern.
All Bombers home games begin at 6:30 pm.  Gates Open at 5:30 on Fridays & Saturdays; 6:00 Sundays – Thursdays.  (times are subject to change)
| | | | |
| --- | --- | --- | --- |
| Fri., June 3 | 6:30 PM | Louisville | Home |
| | | | |
| Sun., June 5 | 6:30 PM | Henderson | Home |
| | | | |
| Tue., June 7 | 6:30 PM | Owensboro | Home |
| | | | |
| Sat., June 11 | 6:30PM | Muhlenberg County | Home |
| | | | |
| | | | |
| | | | |
| | | | |
| Fri., June 17 | 6:30 PM | Owensboro | Home |
| Sat., June 18 | 6:30 PM | Henderson | Home |
| | | | |
| Tue., June 21 | 6:30 PM | Louisville | Home |
| Thur., June 23 | 6:30 PM | Full Count | Home |
| Fri., June 24 | 6:30 PM | Henderson | Home |
| Sat., July 2 | 6:30 PM | Henderson | Home |
| Sun., July 3 | 6:30 PM | Paducah | Home |
| Wed., July 6 | 6:30 PM | Madisonville | Home |
| Fri., July 8 | 6:30 PM | Muhlenberg County | Home |
| Sat., July 9 | 6:30 PM | Madisonville | Home |
| Sun., July 10 | 6:30PM | Muhlenberg County | Home |
| | | | |
| Tue., July 12 | 6:30 PM | Muhlenberg County | Home |
| Wed., July 13 | 6:30 PM | Owensboro | Home |
| Thur., July 14 | 6:30 PM | Hoptown | Home |
| | | | |
| Sun., July 17 | 6:30 PM | Fulton | Home |
| Mon., July 18 | 6:30 PM | Madisonville | Home |
| Tue., July 19 | 6:30 PM | Louisville | Home |